FOR IMMEDIATE RELEASE
Prolific Press has published A Poverty of Words by Frederick Pollack.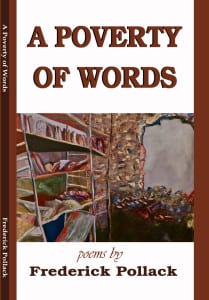 A Poverty of Words: by Frederick Pollack (ISBN: 978-1632750198)
Prolific Press is pleased to release a fine collection of poetry by one of our favorite poets, Frederick Pollack. This collection is large, 146 pages, a voluminous book. Each poem was hand-selected from several of Pollack's manuscripts, representing years of passionate writing.
A Poverty of Words is available at the Prolific Press Bookstore, Amazon, Barnes & Noble, and fine booksellers everywhere.
About Frederick Pollack:
Frederick Pollack was born in Chicago; he lived for many years in California but it didn't take. He now lives and teaches in Washington, DC. Pollack's books, The Adventure and Happiness, are both book-length narrative poems (Story Line Press). More of his work can be found in various journals and publications each year. His updated biography is available on Amazon.com. Pollack's voice belongs to neither the navelgazing mainstream nor the poststructuralist avant-garde.
What are others saying about Frederick Pollack's new book?
"In his rich new collection, Frederick Pollack has opinions and observations about everything. Pollack is 'didactic' in the very best sense of the word—and learn I did from his unflinching, never ingratiating poems." Jane Shore (Professor, George Washington University)
"If you've never read this poet, prepare for one of the greatest breakthroughs of your reading life. Yes, Frederick Pollack is that good." Robert McDowell (Co-Founder and editor, Story Line Press)
"I enjoy Fred Pollack's poems, and consider them necessary because they do what poetry should do, grapple with the important. When I dwell on his poems, I can see the images leave the page and come to life." Daniel J. Langton (Professor, SF State; winner, Edgar Allan Poe Award)
Prolific Press Inc.
PO Box 113
Harborton VA 23389
Admin@ProlificPress.com
Glenn Lyvers (Masthead)