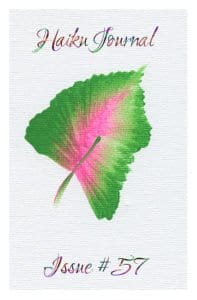 Congratulations to the extraordinary poets whose fine works appear in Haiku Journal Issue #57. Now available in our bookstore.
A fantastic issue featuring some of the finest poets anywhere! Hand-selected works by: Kennard Balme, Sandra Barnett, Roberta Beach Jacobson, Renee Butner, Cassie Ciopryna, Lorraine Cipriano, Suzanne Cottrell, Whitney Crowe, Sara Cunningham, Ana Drobot, Deborah Dybowski, Kirk Eckstine, Emily Ellison, Michael Feil, Chasity Gaines, Susan Gentry, Shasta Hatter, Beverly Head, Paul Jones, Lianne Kamp, Rebecca Kane, Debra Kirouac, Melissa Laussmann, Bruce Levine, Elisabeth Liebert, Idynne MacInnes, Jackie Maugh Robinson, Dennis Maulsby, David McLintock, William Miller, Ricky Monahan Brown, Andrew Moore, Daria Moyer, Allison Paoli, Rachel Pond, Sybil Ponnambalam, Robert Henry Poulin, George Skala, Erica J Smith, Ray Spitzenberger, Lisa Stice, Mark A. Tambone, Sarah Thomas, Hannah-Rose Tristram, Mark Tulin, Marcus Vance, Nells Wasilewski, Erin Werner, Juliet Wilson, and Jackie Zedalis.
Cover art painted by Glenn Lyvers.